{GIVEAWAY REMINDER: Don't forget to enter the Oscar De La Renta giveaway

here

!}
Its officially the beginning of the weekend everyone! Love me some Friday goodness up in here:) Anything planned to make this weekend fun? I have some terrific news for one lucky lady that's going to make her weekend even better! The Yonka Paris Giveaway winner is
Linda

!! Congratulations lady! Now answer your email:)
...this recipe for Pesto Pasta! I love all the ingredients in this recipe (especially the
roasted
brussels sprouts, since I don't do them raw:)) I'm so excited to try them together! I'm really craving some light pasta these days.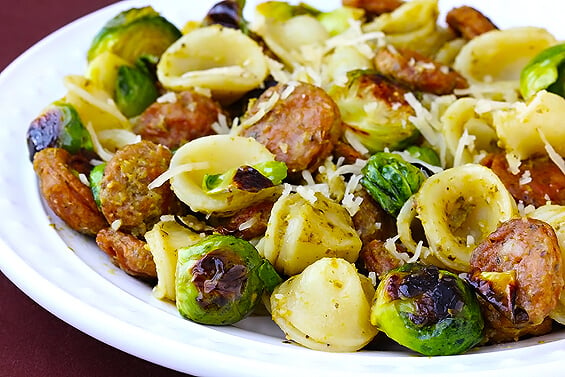 ...this fun tutorial for bleach dying from the lovely Jess Craig! I'd love to do this to a bunch of things in my wardrobe
...these amazing iphone cases!! I can't really decide between the first two and the star wars is just neato. Never mind, I'm so getting the TARDIS...
...this yummy recipe for Eggplant Parmesan from Alex Guarnaschelli

. I used to love watching her on the food network before we got rid of our cable. Doesn't this look delicious though?
...this cute chevron maxi from downeast! I'm big into chevron in case you didn't know:) Its just hard not to love don't you think?
...this adorable photoshoot from Chelsea. They're so cute together! I'm now inspired to take anniversary shots with Martin finally. What do you say honey?
...this lovely song from a lovely movie. The pandora station for this song is fantasic by the way:)
...this pair of leopard heels from forever21. I'm pretty much crushing on them! haha No wardrobe is complete without a pair of leopards.
...this amazing apple. I wish I was talented enough with my mouth. Maybe next time I eat an apple I'll give it a try and let you know how it goes:) hahaha
via (Can't remember where I found it, so if you know than please pass it on!)
...this pair of bleached flag hotpants! Yea baby! I know what I'll be wearing come the 4th:)
Speaking of the fourth, what are you plans for the holiday?