Five things I'm loving this friday:
1.

Little quiet conversations with my very wide awake baby in a very sleepy house.
2. Drinking a big glass of cold chocolate milk in the warm shade.
3. Waking in the middle of the night to realize that Martin and I are still tightly holding hands.
4. Playing hookie from work and chores to simply drive around with the windows open, listening to our girls giggling together in the backseat.
5.

The beautiful weekend I have ahead that has absolutely nothing to do with being sick, and everything to do with spending lots of time with my little family.
and now this week I found...
...this totally delicious looking recipe for fruit pizza!! Wowy, my mouth is watering just looking at it. It's just so rustic and fresh looking, and yes that's nutella in case you were wondering!
...these adorable bike planters. I don't know where I can buy any, so I may just have to make me some! Only I need a vintage bike first because they just wouldn't work on my mountain bike:(
... these rather fantastic (and incredibly high) strappy heels from none other than,
Christian Louboutin. I don't know why I have a habit of picking the most expensive heel of the bunch, but its a curse:(
...this yummy looking Coconut Dream dessert from the food network. Served in a cracked coconut half! How clever!
...this art print of moon salutation yoga. Love, love the model! She's just so focused and serene:) Looking forward to sunrise and sunset yoga this summer!
...this photo of a picnic by a lake I stumbled upon on pinterest. This is so something I want to be doing a lot this summer!!
...this wonderful summer outfit from polyvore. It just looks so comfortable! (maybe switch the white jeans for khaki though:)) and I've actually included that La Mer stud watch before because I just love it!
...this retro print of sunbathers from Life magazine. Don't you love their bathing suits? So fun!
...this vintage suitcase refashion from the lovely Elycia. I've been collecting vintage suitcases for years now and I am SO going to try this!!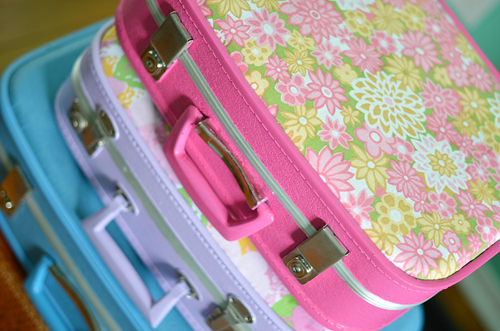 ...this recipe for (get ready)

Coconut-Curry Chickpea Quinoa Pineapple Burgers. Phew, that's a big title! haha but they do look tasty don't they? We may have to give these a try this summer!
...lastly I found

this miniature cat in a hoodie!! As soon as I saw this I just couldn't resist. What a cutie!!
Hope you have a wonderful weekend planned ahead!! Take care, and I'll see you tomorrow for something exciting:)