Wow its been a crazy full week!! Crazy and fun:) Lots of days and nights spent sewing and taking pictures with my little sweeties crawling and running around my ankles, lots of visits to and from, lots of yummy meals cooked by my dreamboat, lots of phone calls, lots of injuries sustained by needles and pins, lots of yawns and sighs, lots of mileage put on the car, and lots of time too and from the office and computer station. What a full and wonderful week! I hope it has been as good to all of you!
This weekend I've put together another little list of things that I've found throughout the week consisting of lots of lovely, special, and unique things, but most of all inspiring things in one way or the other. Hope you love!
This darling artwork called 'falling slowly' of the characters from the movie Once, by Nan Lawson on etsy! via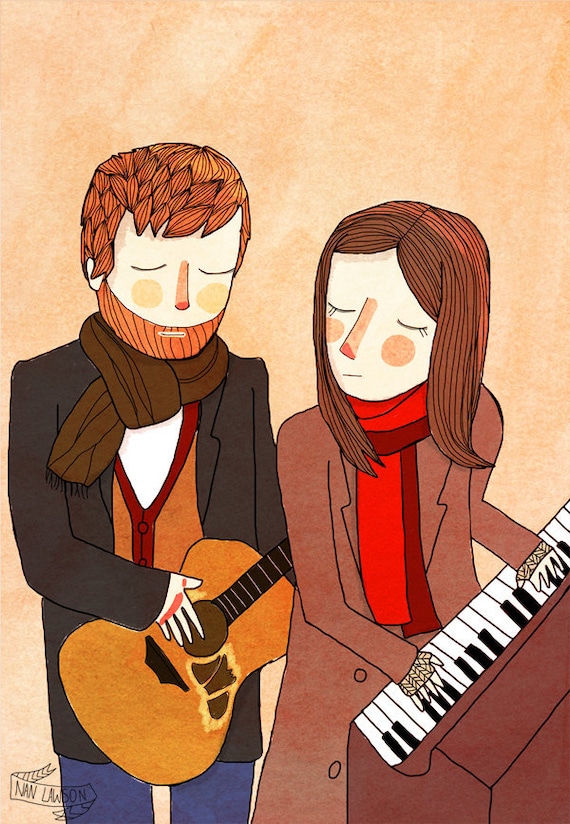 I like that the polka-dots are the first thing you see, and than as you walk away... :) via
A summer home perhaps? via
Yummy! Ice cream never looked so good. what a marvelous color for dessert! via
I love this cute idea for wrapping gifts! With the brown paper as a base you could add any color ribbon etc for any theme you wanted! cute cute:) via
This bag and these boots from wanelo.com .Oldschool, rustic, and lovely! via
A thought shared by many I'm sure:) via
Wow I LOVE this dress from Modcloth! I guess a lot of other people love it too, cuz its out of stock! via
Hope you have a magical weekend!
xo, Em